OOOze
CURATED BY ANGIE SEYKORA
JULY 12TH - AUGUST 23RD, 2019
Bodies are plastic by definition. They're corporeal material capable of adapting and being molded, pliable. They're made of stuff, both inherent and incidental, which can be absorbed and expelled. That's what makes the human body an expert consumer.
OOOze, curated by Angie Seykora, examines how the definition of the plastic body in the age of the anthropocene shifts to take on new meaning. The average body will ingest a credit card's worth of plastic just this week, and in doing so, becomes literal plastic: part polyethylene, part PVC, part nylon that can be "molded into shape while soft, and then set into a rigid or slightly elastic form." It becomes an accidental repository for BPA and microplastic particles; a site of unintended cybernetic chemical synthesis in its membranes, pores, and cavities.
OOOze artists Barber, Adam Roberts, and Angie Seykora share a common approach to manipulating material that mirrors the ways in which our increasingly hybridized human bodies adapt to living on a damaged planet. Through processes that mutate, suspend, and accumulate the material stuff making up more and more of our breath, blood, and tissue, these three artists look at the 21st century plastic body inside and out.
Adam Roberts' 2-dimensional work, for example, uses plastic laminate membranes to trap globs of paint that ooze in a transparent state of suspended coagulation while Barber's heavily layered paintings reveal themselves slowly by sloughing the surface to expose strata of paint, charcoal, and found objects. Angie Seykora uses prefabricated materials steeped in industrial manufacturing's modern history to articulate sculptural forms that reference abnormal cell growths and mutations.
This exhibition was presented with the support of the Nebraska Arts Council and the Nebraska Cultural Endowment.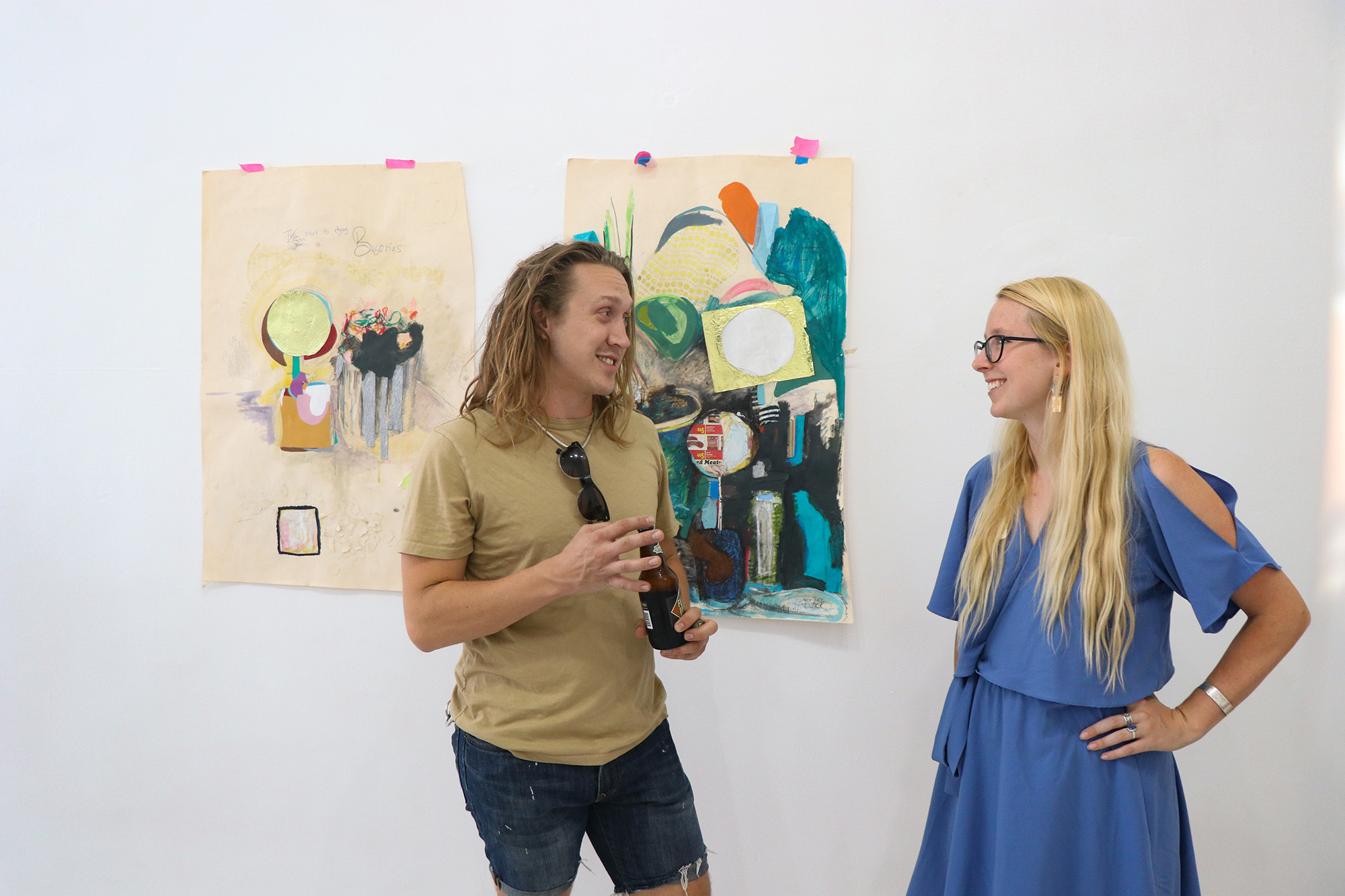 Barber graduated Cum Laude in the MFA program at the University of Iowa and uses interdisciplinary art practices to articulate various testimonies within and surrounding Black America. He has recently been awarded fellowships at Fontenelle Forest and The Union for Contemporary Art. He has also received the Stanley Grant award from the University of Iowa, and the Alonzo Davis Award from the Virginia Center for Creative Arts. His work has been exhibited extensively throughout the United States at venues that include the Englert Theatre (Iowa City, IA), the Museum of Science (Chicago), Public Artwork on the Atlanta BeltLine (Atlanta, GA), the Rialto Theatre (Atlanta, GA), C4 Atlanta (Atlanta, GA), the Lexington Theatre (Kentucky), Mason Murer Gallery (Atlanta, GA), Gallery 4731 (Detroit, MI), and Levitt Gallery, (Iowa City).
Adam Roberts is a mixed media engineer working in the fields of visual and audible art, respectively as a producer and facilitator. His work is heavily influenced by color field painting where color is freed from objective context and becomes the subject in itself. He works to all but remove the traditional frame and surface from the process of painting to suspend paint in its pure form, uninhibited.
Angie Seykora received an MFA in Sculpture from Edinboro University of Pennsylvania. In 2018 Seykora was the recipient of an Unrestricted Artist Grant from Amplify Arts and in 2016, was recognized as a Distinguished Artist by the the Nebraska Arts Council through the award of an Individual Artist Fellowship. In 2013, she was presented with the Outstanding Student Achievement in Contemporary Sculpture award from the International Sculpture Center, where she was selected for the Art-St-Urban Sculpture Residency in St. Urban, Switzerland. Angie Seykora is an instructor of sculpture at Creighton University. Her work is exhibited and collected on a national and international level.